South Park: The Fractured but Whole
Watch the Trailers
Check out the following selection of kickass trailers for the game!
Additional promotional footage has also been released:
Official Description
From the creators of South Park, Trey Parker and Matt Stone, comes South Park: The Fractured but Whole, a sequel to 2014's award-winning South Park: The Stick of Truth.
Players will once again assume the role of the New Kid, and join South Park favorites Stan, Kyle, Kenny and Cartman in a new hilarious and outrageous RPG adventure.
In South Park: The Fractured but Whole, players will delve into the crime-ridden underbelly of South Park with Coon and Friends. This dedicated group of crime fighters was formed by Eric Cartman whose superhero alter-ego, The Coon, is half man, half raccoon. As the New Kid, players will join Mysterion, Toolshed, The Human Kite, Mosquito, Mint-Berry Crunch and a host of others to battle the forces of evil while Coon strives to make his team the most beloved superheroes in history.
Story
Crime is on the rise in the hapless town of South Park, and the abduction of the missing cat Scrambles, suspected as part of an international conspiracy, draws the Coon back into crimefighting- at the helm of Coon and Friends, an ambitious up-and-coming superhero franchise. While the mysterious benefactor behind the crime wave enlists Professor Chaos, bringer of destruction and doom, to take out the superheroes for a hefty sum, the heroes themselves are divided by a 'civil war' over the future of their franchise plan, with the possibility of a Netflix series at stake... and only the return of the New Kid, aka the 'Farting Vigilante', can help bring balance and save the town.
Assigned as the sidekick of Captain Diabetes, the New Kid is forced to accompany him to infiltrate the Peppermint Hippo strip club and pose as a stripper in order to locate a woman with a penis tattoo, who may hold a clue to Scrambles' location... after questioning to wealthy regulars, and mixing up a fart-laden drink for the Peppermint Hippo DJ, they discover Classi is the woman in question. Chasing her to the back in pursuit, they are forced to battle many of the strippers, lead by Spontaneous Bootay, who aim to protect her.
When Classi reaches the back door of Buca de Faggoncini to hide, a mobster threatens to kill them, but is accidentally crushed by the restaurant's neon sign. Captain Diabetes tries to move it by drinking apple juice to induce his diabetic rage, but he fails to do so and ends up dying from diabetic shock, eventually being revived by a sudden "glitch" in time initiated by the New Kid's farts. Calling in backup, they are joined by their allies in fighting the chefs of the restaurant, soon discovering a room full of cats in cat carriers and another group of mobsters, who are only taken out by Red Wine Drunk Randy Marsh, desperately looking for his keys. As Randy is defeated, Coon and Friends manage to interrogate Classi.
From Dusk 'Til Casa Bonita
Bring the Crunch
Character Classes
Though only a few classes are available to the player at the start of the game, a total of twelve classes can be unlocked altogether, and the player has the option of occasionally changing their class or eventually being able to dual-class or further. Abilities can be upgraded individually, allowing the player to establish a custom, one-of-a-kind hero unlike any other that fits their playing style.
The starter classes include:
Speedster: The 'fast' class, which boasts abilities connected to moving at supersonic speeds, heavily modeled on DC Comics' the Flash and Marvel Comics' Quicksilver.
Blaster': The ranged class, based on characters who use energy charges or projectile weapons. Notable blasters include Marvel Comics' Cyclops.
Brutalist: The brute strength base class, which is more similar to the superhuman strength of characters like DC Comics' Superman or Marvel Comics' the Thing.
Additional classes unlocked later in story mode:
Elementalist: Those in tune with the powers of the weather and the elements best select this class, which keeps these powers in balance, much like Marvel Comics' Storm and the Human Torch.
Cyborg: This class has the unique abilities of a part-human, part-technology being. DC Comics' Cyborg is, naturally, from this class.
Psychic: A class more focused on healing and buffing other heroes via mental strength than on direct combat, similar to Marvel Comics' Professor X.
Further classes become accessible later:
Gadgeteer: While not enhanced like a cyborg, the Gadgeteer is a mechanically-inclined genius who can build dangerous weapons while staying out of the fray. Think Marvel's Dr. Doom or DC Comics' Lex Luthor.
Assassin: Similar to the previous game's 'thief' a class that relies on stealth and backstabbing to accomplish its goals, similar to DC Comics' Catwoman or Marvel Comics' Black Widow.
Plantmaster: A class with a touch for working with nature and plants, that offers both healing abilities and devastating attacks. DC Comics' Poison Ivy is an obvious inspiration.
A bonus class only accessed when all previous are unlocked:
Martial Artist or Karate Kid: Physical-oriented moves similar to those used by martial artists.
Two final classes are made available in downloadable content:
Netherborn: Associated with darkness and the underworld, and characters such as DC Comics' Raven, Image Comics' Spawn, as well as Mysterion.
Final Girl: Inspired by Horror films, the Final Girl is a crafty survivalist who can take out multiple enemies at once.
The following classes are not made available to the player in the final game, but were mentioned in pre-release articles:
Mystic: Unknown, but presumably based on sorcerer superheroes like DC Comics' Zatanna and Marvel Comics' Doctor Strange or Scarlet Witch.
Commander: Unknown, but presumably based on military-based heroes like Marvel Comics' Captain America.
Mosquito possess the "Hunter-Vampire" class and the Coon is a "Ninja Manimal", but both of these class combinations are unique to their characters. Professor Chaos is also a "Summoner" due to his ability to summon minions (see below)
Gameplay Mechanics
Combat System
While the previous game featured a straightforward, traditional turn-based combat system akin to most fantasy role-playing games, this game has a new grid-based combat system that remains turn-based but is much more refined. The player can now move their characters every turn, as well as build larger parties of allies that can be in play at once, against larger groups of opponents. This system encourages strategy from player and opponent alike, as attacks now knock back, or even forward, characters, which can make them more or less susceptible to certain attacks. Movement on the grid opens up some attacks and closes others.
While the 'magic' system of the previous game is discarded due to the shift in theme to superheroics, the player's farts remain a valuable asset, with the capability to alter time and space, by for example re-arranging the order of attacks in battle. (The exact details of this power have not yet been laid out or confirmed.)
Every character also has an 'Ultimate' ability linked to their most powerful attacks, which is fueled by every hit made against an opponent over the course of a battle - these attacks are often accompanied by over-the-top and outlandish visuals, such as the Human Kite flying to space to shoot laser beams.
Time Farts
Like the previous game, farting is the single most important system mechanic that will come to save your ass time and time again, pun intended. As you explore and discover the true abilities of your asshole, with a little help from Morgan Freeman and some Mexican food, these abilities help you gain you advantages over enemies in combat, and assist in helping others around town. Be careful as you rip holes in space and time, as before long you may just find yourself with a fracture...
Glitch - Reverse time a few seconds backwards, erasing an enemy's turn, bring a useful ally back from the dead, or make sure nobody realizes you moved that ladder in the garage.
Pause - Pause time for a few seconds, allowing you to pick up things that move quickly, turn off switches, or snatch a few rule-free punches.
Shift - Nearby a massive fan? Then this fart can help you alter the speed of time. Make it night instead of day, then back, then again... it actually gets boring after a while. Just use it when absolutely necessary.
Summon - Ever wish you could be in two places at once? With just a complex recipe and a simple fart, that wish can be true. Dominate the battlefield with two New Kids. It's helpful when dealing with bosses and packs of foes.
Character Customization
The New Kid is you, after all, so customizing your character remains a crucial part of the game. After selecting your character's sex and selecting from a variety of hairstyles and a default outfit, everything else plays out ingame. Costume pieces are no longer attached to stats, so now you can create your own unique and customization superhero costume. (Try to be a little more creative than Super Craig.)
Further customization comes with exploring the town as the New Kid fills out a 'character sheet' - finding characters who specialize in this fields and talking to them ad fulfilling tasks helps you discover your gender, race, economic class, etc. Of course, this still South Park, so none of it only matters - the Rednecks will try to beat you up anyway. (Some of the dialogue does change a little.)
Social media again plays a crucial role as you try to make friends in town and gain followers on Coonstagram, the town's new social network to replace Facebook. Gaining followers is, of course, really all about the valuable bond formed by taking selfies with other characters. Make sure you're dong customizing your costume first!
Combat and customization meet collectibles with Artifacts, powerful items you can find throughout town that enhance your character's "might" - their stats and abilities in combat, and sometimes those of your allies as well. Many of these artifacts, of course, are items relevant to South Park lore as well, like a sexy magazine from Mayor McDaniels' office. If you feel like you're stuck and can't progress, finding or equipping new artifacts might be a good move.
A similar system for augmenting your superhero abilities is 'DNA', allowing you to genetically augment yourself with the remains of fallen enemies. Of course, there always has to be balance i science, so strength comes at the cost of health and speed and vice versa. No, this system isn't the work of Dr. Alphonse Mephesto - it's actually Jimmy Valmer's latest side project.
Crafting System
The game's other key new feature is a crafting system - with just a few common items like water bottles and tortillas, you can get crafting valuable healing items in moments. Water bottles can be used to craft healing drinks, tortillas to craft Mexican food for stronger farts and healing, bits of fabric to create costumes, and junk to sell for more parts.
If you're ever having trouble with crafting, you may want to stop by Freeman's Tacos for tips, advice, and a few more tortillas.
Collectibles and Items
While the previous game tasked the player with collecting rare Chinpokomon toys, in this game the player's focus is instead on discovering valuable Yaoi art pieces featuring Craig Tucker and Tweek Tweak around the town, and returning these pieces to Craig's Dad, who has become an art enthusiast since the episode where the two began dating.
The other main collectibles is "member berries" with thirty small packages throughout the town, all of which upon collection, will reminisce about the good ol' times, like the older Star Wars films or the last game.
Additional collectibles can be redeemed in the game's crafting system or sold for profit.
Factions
As in the previous game, the main characters are divided into two main, competing factions, and the New Kid is first lured into the conflict by Eric Cartman's faction - this time, the iconic Coon and Friends franchise. Over the course of story, they are forced to team up with Freedom Pals in order to save the town from a greater foe, as well as the dreaded Professor Chaos himself.
Coon and Friends
A superhero team with a complicated history that seeks to become the next big superhero franchise - all they need to do is find one cat, collect one hundred dollars, and start production on a solo series for their powerful leader, the Coon.
Freedom Pals
A rival team of superheroes who have rebelled against the Coon's franchise plan, believing that all heroes should be treated equally. They have a lead at Netflix and a lead for the missing Scrambles' location...
Independent
Enemies
Additional factions appear as enemies, in rough order of story appearance:
Memorable Quotes
"Why did we choose this life? Why did we become super heroes? We dedicate our lives to fighting crime for one reason... to make a billion dollars on a superhero franchise." - The Coon
"There's nothing wrong with rehashing the same material in order to start a franchise!" - Toolshed
"Go ahead, I bet you don't even get halfway through Phase One on your franchise, DC Comics!!" - The Coon
"Everybody's dad FUCKED everybody's mom!" - The Human Kite
"I guess you have farts that stop time or something?" - Toolshed
"Eric, you must listen to me. Right now I am speaking to you telepathically. Your franchise is going nowhere. Face the truth. You guys are kind of douchebags." - Professor Timothy

"He just called us douchebags, in my mind." - The Coon

"How long before Daredevil becomes the Punisher? Oh, three seasons...? THREE SEASONS!" - Concerned Citizen
Main Characters (Buddies)
There are several 'playable' characters in the game - the player is always essentially the 'New Kid', but the player can also direct one chosen companion at a time, particularly in battle, and each of these kids has a special ability.
The New Kid: You're still the new kid in town. You have a complicated history you're still trying to put behind you, so you don't talk much. You're more of a do-er than a thinker, but now that you've been in a town a while, you can finally start figuring out who you are and getting that character sheet together.
Your exact special abilities will vary according to your choices throughout the game.

When night falls in South Park, Cartman takes up the call and dons the Coon costume. This fearless crime fighter is the only one who can sort through the trash can of society. As the founder of Coon and Friends, the Coon is the mastermind behind the greatest superhero franchise of all time and will stop at nothing to see it realized. Thinks Eric Cartman is handsome and cool.

Special Abilities:
Coon Claws - A terrible scratching that applies Bleeding. Hits three times.
Coon Lunge - Charge into the fray, claws flying.
Coon Pounce - Damage and swap places with a foe.
Prime-Time Coon (Ultimate) - As the Coon fantasizes about being the star of a critically-acclaimed R-rated superhero film, he claws all foes and make them Bleed.
From high above the battlefield the Human Kite, alias Kyle Broflovski, swoops into action striking fear into evil-doers everywhere. Blasting away his foes at range while supporting his fellow Coon and Friends members, the Human Kite is a powerful ally to have on your superhero team.

Special Abilities:
Laser Burn - Rake a target with Kite's laser eyes.
Jetstream - Pull allies close and Heal them.
Kite Shield - Grant Protection to a teammate.
Fartkour (Ability) - With the aid of the New Kid's farts, the Human Kite can glide to higher areas.
Wrath of Kite (Ultimate) - The Human Kite flies to space, using his kite beams to inflicts Burning on all enemies.
Charging into battle, Super Craig uses super strength and a powerful sense of indifference to defeat evil. Accompanied by his hamster, Stripe, he is a proud member of Coon and Friends. Hidden behind his Super Shirt, Super Craig is actually Craig Tucker, local 4th grader.

Special Abilities:
Mega Fist Punch - Damages and knocks back a foe.
Shining Hate Finger - Craig flips off an enemy, gaining Block and inflicting Enraged.
Omega Crash Extra - Charge that will inflict Slow and Knockback.
Furry Death (Ultimate) - Super Craig and Stripe, transforming into a Guinea Pirate, double-charge a foe.
Eros Eruption (Ultimate) - Public Display of Affection with Tweek Tweak, in anime style, that damages and Confuses the nearby foes.
Lightning quick in battle and in wit, Jimmy Valmer adopts the persona of Fastpass to fight crime. Fastpass uses super speed to blindside his opponents. When he's not fighting side-by-side with the New Kid, Fastpass helps citizens travel quickly throughout South Park with his Fast Travel stations.

Special Abilities:
Blind Side - Grants Fastpass invisibility and damages foes.
Hit and Run - Strikes a foe from range.
Transporter - Swap spots with an ally Heal them.
Burning Lap (Ultimate) - Trample and apply Burning to all of the foes in a row.
Bzz! Bzz! Bzz! That's that sound of justice when served by Mosquito. When the insect-human hybrid Mosquito enters the fray, enemies are quickly drained of their will to fight… and blood. Bitten by a radioactive mosquito, Clyde Donovan became the superhuman disease vector known as: Mosquito. Now he sucks the blood out of crime and is generally really gross.

Special Abilities:
Bug Bite Barrage - Inflict Lifesteal by feeding on a foe. Hits a horizontally adjacent foe three times.
Skeeter Swarm - Damages foes and inflicts Gross Out while giving Mosquito Attack Up. Hits eight squares in a radius around him.
Zika Rush - Applies Lifesteal via fly-by rush. Hits up to three enemies in a horizontal line.
Pandemic Pestilence (Ultimate) - Summons a revolting bug horde over a large area, damaging and Grossing Out foes.
Scott Malkinson could've been an ordinary child, but in a freak accident his mom farted on him during childbirth which gave him diabetes. Rather than dwelling on his misfortune, Captain Diabetes wields his sugary illness as a source of power that his enemies cannot overcome. Captain Diabetes is a Brutalist archetype who combines punishing melee knockback moves with an annoying desire to hang out.

Special Abilities:
Coma Combo - Brutal double-punch with knockback.
Sugar Rush - A Dash attack that grants Protection.
High-Fructose Death Wave - Brutalizes and knocks back foes.
Diabetic Rage (Ability) - When the New Kid farts on Captain Diabetes' face, he taps into his rage at his origin story in order to lift heavy objects... but only if they have a green base.
Insulin Shock (Ultimate) - Knockback and Slow several foes, and gain protection.
Possessing mental command over power tools, Toolshed is an extremely handy member of Freedom Pals. To the kids at school he is Stan Marsh but when darkness falls, Toolshed rushes into battle armed with contents of his dad's workbench. The accident that give him the ability to control tools has sadly rendered his father an idiot, but he hopes one day to save him.

Special Abilities:
Spiral Power - Damage along two diagonal lines.
Drillslinger - Chucks screwdrivers for damage and knockback.
Revitotron 9000 - Heals and refreshes allies.
Sandblaster (Ability) - Toolshed can clear access to forbidden areas using a sandblaster, but only if it's plugged into the proper outlet... or the New Kid's powerful asshole.
Full Bore (Ultimate) - Ultimate ability. Toolshed commits facial deconstruction using an enormous power drill.
Part 4th grader, part food storage container, Tupperware became a crimefighting cyborg after an unfortunate pantry incident. Before his accident he was Tolkien Black, but now uses his enhanced durability to absorb attacks and keep his allies feeling fresh on the battlefield.

Special Abilities:
Tupper Tornado - Smack and knock back all foes nearby.
Tupper Turret - Summons an offensive gun turret.
Hot Swap - Swap spots with anybody, gains Protection.
Tupper Mech Mk III (Ultimate) - Initiates upgrade to a much stronger tupperware power suit.

Rocket Barrage - Hits a cross-shaped area of five squares with powerful missiles. Can be used a few times.
Fueled by 100% organic Arabica beans, Wonder Tweek is a master of the elements. Born Tweek Tweak, he haphazardly blasts foes from a distance with the forces of nature. Although he had a past relationship with Super Craig, the two are on a break following Wonder Tweek's defection to the Freedom Pals.

Special Abilities:
Supreme Lightning - Blast and Shock foes with lightning.
Icicle Strike - Attack for guaranteed shrinkage and Chilled.
Soothing Showers - Heal and pamper an ally.
Single-Origin Overdose (Ultimate) - Tweek summons the elements of the Earth to damages nearby enemies.
Eros Eruption (Ultimate) - Public Display of Affection with Super Craig, in anime style, that damages and Confuses the nearby foes.
The legendary Mysterion is different than his fellow superhero companions is one important way, he actually has a superpower. He can never die. Known by most as unassuming Kenny McCormick during the day, Mysterion might just be the hero South Park needs to set right the growing evil that lurks in the shadows.

Special Abilities:
Demonic Fury - Execute a punishing melee attack.
Dread Rush - Two-punch combo with reverse knockback.
Dark Whisper - Pull a foe and deal damage
Cruel Fate (Ultimate) - Mysterion sacrifices himself in battle to damage enemies.
The rats may feed upon his corpse, and he may not be healed by traditional means, but be rest assured, Mysterion remains nearby.
Ghost Abilities:
Phantom Chill - Haunt a foe, Chilling them with a touch.
Marked for Death - Apply Defense Down to an enemy.
Spooked - Confuse a foe with spectral terror.
Mysterion Re-rising (Ultimate) - Return to life and heal adjacent allies.
The bringer of destruction and maker of doom, the feeble powers of any superhero are no match for the mighty Professor Chaos. A veteran of supervillainy with many foiled schemes behind him, few realize that he was once the lonely Butters Stotch, outcasted by society. Seeking vengeance on those who once wronged him, ten thousand dollars from a generous donor may be all he needs to defeat Coon and Friends once and for all...

Special Abilities:
Chaos Blast - Ranged attack that damages enemies up to three squares away.
Chaos Confuse-O-Tron - Summons a device near an enemy in a large range around Professor Chaos, inflicting Shock and Confuse.
Chaos Minion - Summons a minion in front of Professor Chaos, which can move around and punch enemies. Lasts three turns.
??? (Ability) - Professor Chaos reluctantly inserts one of his hamster minions into the New Kid's anus; the resulting fart shoots the poor creature to where it can attack wires.
Hammer of Chaos (Ultimate) - Transforming into the anime version of Professor Chaos, he wields his massive hammer and hits a wide area in front of him, inflicting heavy damage and Shock.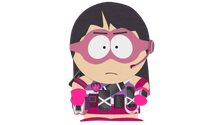 Answering the call of justice, Call Girl disconnects criminals and places their evil ambitions on hold. Extending her influence from social media to the town of South Park, Wendy Testaburger is a gadgeteer and a white-hat hacker with a heart of gold who uses technology and an army of followers to unfriend evil. If you need information, just know that you can rely on... Call Girl!

Special Abilities:
Selfie-Stick Strike - Whacks a foe three times with a selfie stick, applying Slow.
Phone Destroyer - Destroys an enemy's phone via hacking, damaging them and inflicting Defense Down.
Blocked - Gains Block and Enrages a foe.
Flash Mob (Ultimate) - Wendy calls upon her followers, using Chinpokomon Go to create a flash mob, causing damage and Defense Down to all foes.
Some heroes don't wear capes. An enemy-turned friend to Jesus Christ, Santa is always there to help when Christmas is in danger, and he'll never let the nasty Christmas Critters ruin his holiday. Santa joins you only during their boss battle.

Blessed with a limitless intellect locked within a weak, fragile body, Doctor Timothy turns to his psychic powers to combat evil-doers. Few realize that Doctor Timothy is secretly Timmy Burch; a boy of few words. His extraordinary mental abilities and mind for strategy make him an important member of the Freedom Pals. (Not actually playable.)

Special Abilities:
Psychic Scream - A blast of pure psychic energy with strong knockback damage.
Brain Bomb - Damages and Confuses enemies. Hits three squares in a row ahead of him.
Mind Rape - Charms an enemy, causing them to fight for him and his allies.
When Kindergarteners Attack - Summons four Kindergartener Swarmers to assist him. Only used in his first boss battle.
The Timmy Whisperer (Ultimate) - Charms all foes within range and causes damage.
Henrietta torments conformist enemies and barely tolerates allies, controlling the battle from afar with a grimoire full of dark heals and darker support powers.

Special Abilities:
Cigarette Burn - Damages all douchey conformist opponents up to three squares ahead.
Satanic Seal - Award positive status effects to an ally, including Attack Up, Protection and Cleanse.
Baleful Blessing - Heal a targeted ally with a Lifesteal bonus.
Black Mass (Ultimate) - Henrietta summons the power of Satan himself to heal her allies and damage all foes.
Wielding otherworldly powers, resident alien Bradley Biggle serves the battlefield with a balanced breakfast of enlivening Mint and debilitating Berry, topping evil with a satisfying crunch.

Special Abilities:
Mint Launch -
Berry Blast - Deals Berry and damage to opponents, knocking them back with the full strength of berry.
Flavor Burst - Cleanses all allies with the protection of Mint and inflicts Berry on foes.
Bringing the Crunch (Ultimate) - Taps into his powers to infuses all allies with the protection of Mint, and inflicts damaging Berry upon all foes.
Characters
Summonables
Some of the town's friendly faces are happy to provide the player assistance in their quest to save the town. Moses heals the player's party and removes status effects, while Jimbo and Ned shoot out enemies as a single summon, a cheesed out Kyle's Dad attacks from above with his airplane, and Classi runs them over with her vehicle.
Bosses
Watch out for these guys. They're not so nice, especially in combat.
Downloadable Content
Coonstagram Followers
The following characters, in addition to your buddies and summons, can be encountered in town and added on Coonstagram. There are one-hundred and thirty potential followers in the base game. Did you find them all?
From Dusk Til' Casa Bonita
Bring The Crunch
Character Debuts
The game contains some characters new to the South Park universe, and whoever they are, they'll be included here. Many of them can also be added as Coonstagram followers.
From Dusk 'Til Caasa Bonita
Bring the Crunch
Additional Characters and Cameos
The following characters play a small role in the storyline, or appear in the game's background, but cannot be taken a selfie with, or followed on Coonstagram, and may not have unique dialogue, or any at all.
Cancelled Characters
The following characters were not included in the retail version of the game, but were previously seen in promotional material or found within the game's files.
Body Count
The following characters appear to have died during the course of the game's storyline regardless of the player's choices, however, whether these deaths are canonical is unknown. Terrance and Steve have both appeared alive in the show since the game's release.
Locations
The following locations have been seen in gameplay footage or mentioned in official news coverage, but their exact role in the game has not been defined.
Downloadable Content Locations
Although not present in the map of South Park, taking a ride on the 'DLC Bus' allows the player to commute to new locations.
Cut Location
An early version of the game's map, included in some press demos, included a sunken area behind the Train Station (near the McCormick Residence) that resembled the Sixth Graders' Hangout. It was not visible on the final map in the final game. A few cut locations would later become backdrops for the Danger Deck levels.
Quests
Day One (Main Quests)
The following quests all take place, or begin, over the course of a Sunday.
Origin Story


Coonstagram


Alternate Universes Collide


The Chains of Super Craig


Birth of a Coon Friend


Rise of the Fourthies


Gotta Go Fast (Travel)


The Burrito Whisperer


Mosquito in a Honey Pot


A Touch of Faith


The Talk


Origins 2

New Beginnings


Civil War


Heading Home

The final quest takes place Sunday night.
The Bowels of the Beast / Desperately Seeking Dick Tattoo

Day Two (Main Quests)
These quests take place on Monday, after school ends.
CLASSIfied


Medicinal Fried Fiasco


Alternate Universes Collide Again


Operation

Just 'Cause


The Talk 2

The Gendering


Operation

Blind Justice


Origins 3

The Visitor


Civil War 2

Playtime's Over


Race Academy

First Class


We Need a Tool / Under Covers

The final quest takes place on Monday night:
The Hundred Hands of Chaos

Day Three (Main Quests)
The third day of gameplay takes place over a Tuesday.
The Chaos Gambit


The Invitation


The Samaritan Agenda


Origins 4

The Omega Prologue


Nocturnal Submission

The extended mission takes place during Tuesday night:
The Thin White Line

Day Four (Main Quests)
The "fourth" day of gameplay begins on a Wednesday as the final battle looms closer and closer...
Freedom Calling


To Catch a Coon

The remaining missions begin over Wednesday afternoon and evening and through... well, this is where it starts to get confusing:
The Many Asses of Dr Mephesto


Farts of Future Past

Side Quests
The following missions can be initiated and completed during or after the story missions are completed, although many offer rewards that can make completion of story mode easier. Rewards include selfies and crafting materials.
Scavenger Hunt

The Yaoi Project

Scavenger Hunt

The Headshot Job

Scavenger Hunt

Big Gay Al's Big Gay Cats

A Randy Mystery

Peppermint Hippo Lost and Found

Ghost Reconciler

Raisins on a Rampage

A Perky Predicament

For Nippopolis

Always Bet on Chaos

A Perky Predicament

Therapy Wars

(You Can) Call on Me

Touch the Sky

Vigilante Marketing

The Big Beatdown
Downloadable Content=
These story missions can be initiated and completed during or after the story missions are completed, but often contain obstacles that may require further story progression... on the bright side, all rewards acquired here can be used across all saves!
Tips and Tricks
Release Date
The official release date for South Park: The Fractured But Whole was released on October 17, 2017 for Sony PlayStation 4, Microsoft Xbox One, and PC.
The game had previously been set for release on December 6, 2016 before undergoing and indefinite delay towards "spring", but despite media speculation over distribution platform placeholders, these were the only two dates ever officially released by South Park or Ubisoft.
Downloadable Content
The following downloadable content has been announced for the game, including new story content:
Towelie: Your Gaming Bud, where Towelie appears infrequently (via a cloud of smoke) to offer tips and advice throughout the game., currently available for $1.99.
Relics of Zaron, a pack of costumes and perks, including the robes of the Grand Wizard King and Princess Kenny for the player, currently available for $4.99.
Danger Deck, where players will have to face the ultimate combat challenge in Professor Timothy's Danger Deck. They will be able to unlock exclusive costumes and artifacts. "Danger Deck" will be available for $5.99 on December 2017.
From Dusk till Casa Bonita, a new story where players will team up with The Coon and Mysterion to defeat a demonic presence at Casa Bonita. This content will be available for $11.99 in March 2018.
Bring the Crunch, which will introduce a new story, including an all new superhero class. It will be available for $11.99 in August 2018.
The Season Pass, available separately for $29.99 or included in the Gold Edition of the game at release, allows access to all of the downloadable content as it is released, with no additional charge.
(No downloadable content related to Canada has been announced at this time, contrary to rumor.)
Continuity Nods
Behind the Scenes
After the successful release of South Park: The Stick of Truth, development for South Park was shifted from the critically acclaimed Obsidian Entertainment to the more recently established Ubisoft San Francisco. Series co-creators Matt Stone and Trey Parker remain firmly involved and wrote the game's script as they had the previous entry, and Jason Schroeder serves as the game's Senior Producer at Ubisoft San Francisco.
While the previous game had been acclaimed for replicating the show's iconic construction paper style, the original South Park elements had to all be re-created and re-animated in Flash for use in the game, requiring collaboration between the developers and South Park' artists. For the sequel, Ubisoft San Francisco aimed to simplify this process by building an entirely new game engine that is fully capable of not only replicating the show's trademark art style, but also importing the original art assets used in the show. This enables not only total accuracy, but the ability to lift new characters, props, locations and other assets created for Season Twenty, while the game is still in production.
The game consequently incorporates some elements introduced in seasons (S17 on, largely) that were created shortly before or after the release of the previous game, such as PC Principal and Classi, who both debuted in Season Nineteen, as well as Crunchy's Micro-Brew which debuted the same season, and the re-designed Skeeer's Wine Bar, although much of ShiTpaTown is still missing. The layout of the map has been changed to include other more South Park locations, such as the Peppermint Hippo strip club. The game's development also effected the show, as it was Senior Producer Jason Schroeder who brought Matt and Trey's attention to the fan art about Tweek and Craig that became the cataylist for the episode "Tweek x Craig", which in turn informed the game's development.
It is unknown what changes, if any, were made to the game in the final year of release after the release of the show's twentieth season and Herbert Garrison's surprising and unforseen election as President, although some development videos depicted him being used for scale. The game does contain references to the twentieth season in the form of the Member Berries collectible and the Mechanic who farms them.
Pop Culture References
With its focus on Coon and Friends, the principal focus of the game's satire is the popularity of Superhero films and cinematic universe mega-franchises. New aspects of this satire include:
Fastpass is a 'speedster' just like DC comics' the Flash and Marvel Comics' Quicksilver...

..but his name is actually a double reference to Disney's Fast Pass, which allows patrons to move further in lines, as well as the fact that Jimmy is sometimes allowed to move to the front of the line because of his disability..

Professor Timothy (replacing Iron Maiden) has telepathic abilities that are inspired by Professor Charles Xavier from the X-Men film franchise.
The 'civil war' concept at the game's center was the focus of a controversial Marvel Comics' storyline that was loosely used as a basis for the 2016 film Captain America: Civil War, which splintered the Avengers into factions lead by Captain America, and Iron Man.
Cartman's reference to not introducing solo films for "the black superhero" or "the chick", in "phase three", is a reference to the upcoming release of the 2018 film Black Panther by Marvel Studios, the first solo film about the titular black superhero, and the later 2019 release of Captain Marvel by the same studio, which will be Marvel Studios' first solo film with a female superheroine. They are considered part of Marvel's own third phase of films.

DC Comics released the first major film to focus on a female superheroine with Wonder Woman in June 2017, after a string of failures in previous attempts at Supergirl and Catwoman spin-offs.

The focus on Netflix is actually in reference to the critically-acclaimed released of Daredevil, Jessica Jones and other series via their platform, which are still within the Marvel Cinematic Universe.

This is referenced more directly when a citizen questions "how long until Daredevil becomes the Punisher?" to which he is informed three seasons. Punisher was released on Netflix in 2017, while the third season of Daredevil is set to be released after the game.

Super Craig and Wonder Tweek's names, at least, are taken from DC Comics' iconic Superman and Wonder Woman.

The two source superheroes have occasionally been teased for a potential romantic relationship in the past, only becoming a serious relationship from 2012 to 2016.

A movie entitled Professor Chaos Squad is included among the Coon's detailed plans - a pretty easy nod to the 2016 film Suicide Squad.
Multiple missions are named after superhero films, including "Race Academy: First Class" and "Farts of Future Past", both of which actually homage the X-Men films.
Additional pop culture references:
Toolshed and The Human Kite briefly argue over whether or not it's "okay to rehash the same material to start a franchise", which is compared to the work of J. J. Abrams, who had recently released Star Wars: The Force Awakens in 2015, which was widely seen as a 'rehash' of the original film.

This criticism would be echoed significantly in Season Twenty's storyline, which features Herbert Garrison claiming the film is "more like a Happy Days renion special than a movie".
Abrams had also previously been involved with the Star Trek reboot, and Star Trek Into Darkness, which underwent similar criticism for being similar to Star Trek II: The Wrath of Khan, which has been quoted in previous episodes, such as "Spontaneous Combustion".
Pwn'd
Rapper Kanye West makes a return to the South Park world, having fully teansformed into a "Gay Fish" (his only identification in the game) and seeking Sea-Man and the player's help to guide his "momma" to Heaven aboard a unicorn that farts rainbows. This is a reference to 'Only One', a real mobile game West is making about his real mother's ascension to Heaven.
Bonus Factoids
Pointless Observations
In most episodes of the show, Main Street is depicted with businesses along both the northern and southern sides of the street, including in cutscenes for South Park: The Stick of Truth, but here, even in cut scenes, there are only buildings on the northern side, while the south is lined with trees.
The Peppermint Hippo strip club is now ironically located not far behind the Park County Police Station, a change for the game that was first glimpsed in "Not Funny".
Characters mentioned but not seen in the final game: Mr. Jarvis' desk in the Gazette building, Kenny's Cat by his father, an image of Chris in the Police Department, and an image of Gino in the Peppermint Hippo building.
Millie Larsen, Powder Turner, and Girl with Green Shirt and Ponytail make no physical appearance in the final game but, alongside others, appear during Call Girl's Ultimate ability.
One of the Cyborg class abilities is called "The Ganz Technique" and involves enraging a foe by playing a Cher music, a subtle reference way back to season 3's "Two Guys Naked in a Hot Tub", where it was used by ATF Commander Danny Ganz.
The interior and exterior of Jimbo's Guns has been revised to match its appearance since season 17's "World War Zimmerman", which aired shortly before the previous game's release.
There are a grand total of roughly sixty characters that can be added on social media in both games, with around seventy characters unique to South Park: The Fractured But Whole.
Errors and Goofs
Some of the kids' names are rendered incorrectly:
Billy Turner has not been a Ginger in his previous appearances on the show. (Maybe he only has the Ginger gene inside of him.)
Although the exterior of the building identifies it as "South Park Senior Center", internal images identify it as Shady Acres, a retirement community that appeared in a few previous episodes and made a big comeback in season 21's "Hummels and Heroin" with a similar exterior.
Dr. Alphonse Mephesto's assistant and constant companion Kevin is completely absent and never mentioned.
Although Terrance Mephesto is suggested to have died back in the first season episode "Mecha-Streisand", he has continued to appear in the background of episodes before and after the game's release.

The Bring the Crunch downloadable content featured a similar example with Counselor Steve, as Jimmy mentions the Tardicaca camp counselors being killed except for those seen in story, and his corpse can be seen in a Coonstagram image, but he appears in "Moss Piglets" fine (after the main game's release) and in the background of "Dead Kids" after the downloadable content.

Detective Hopkins' character model is used as one of many generic and corrupt police officers, with generic lines, even though in his debut appearance he was the token 'Good Cop'.
After the completion of Day One, the player can find Officer Barbrady eating at City Wok in his old police uniform. He does not appear alongside the other officers, but this nonetheless seems a little out of place with season 19's "Naughty Ninjas".
Harrison "Harris" Yates is referred to in different menus variably as Sergeant Yates, Detective Yates, and Detective Harris.
Heidi Turner appears in the game, but without the hat she has been wearing in the show since Season 20.
Myths & Legends
The Difficulty Slider
During the Character Creation process, a "difficulty slider" allows the player to adjust their skin color, with white, Caucasian skin being 'easy' and dark black skin being 'very hard', though the Coon reminds the player, "this doesn't affect combat, just about every other aspect of your whole life." The slider was nonetheless picked up in many news outlets as genuine, with many subsequently expressing displeasure that its effects in the final game are relatively small.
External Links