Thomas Tucker
Thomas Tucker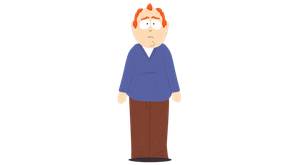 About
Thomas Tucker is one of Craig's adoring parents, and their entire family is perhaps best known for their love of flipping the bird. Craig's father is the tallest guy in town and a friend and drinking buddy of Stan's Dad, Kenny's Dad. They hang out at Skeeter's Bar and Cocktails with the other men of the town. He joined many of the town's other citizens in defense during the Jersey Invasion, and when the UPS Guy was believed to be banging the mens' wives.
Though he can be assertive and argumentative at times, he is shown to care deeply about his family - worrying when his son is lost with the boys and holding his wife Laura Tucker to comfort her - he also tries to tried to help when her "bush" becomes the talk of the town. Though he was raised in a homophobic home, when he realized his son seemed happier with his boyfriend, he decided to let go of his prejudice.
Quotes
"I'll 'oh' whoever I want." (Tweek Vs. Craig)
"Like every kid doesn't have some problems!" (Pandemic)
"What did I do wrong, huh? Everyone's so damned happy, but... but why did this have to happen to my son?! What did I do to make my son like this?" (Tweek x Craig)
Family
Residence
Featured Episodes
Video Games
He appears at the Tucker Residence to inform the player that his son is in detention. He does not add the player's character on Facebook and does not reappear.
Fun Facts