South Park Pirate Club
South Park Pirate Club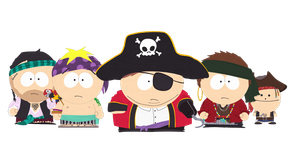 | | |
| --- | --- |
| Gender | Male |
| Age | 5-10 |
| Hair Color | Multiple |
| Occupation | Pirates |
| Religion | Roman Catholic, Judaism (Ike) |
| Leader | Captain Cartman |
| First Appearance | Fatbeard |
About
Inspired by stories on the news of Somalian Pirates' pillages and squander, Eric Cartman and an unwilling Kevin Stoley form a small band of pirates to go to Somalia and take command of their brethren and go a-plunderin' - except no Jews or Gingers need apply. Cartman becomes Captain, with Butters Stotch as his loyal first mate. Using Kevin's lightsaber, they take over a luxury French ship and establish a crew, becoming invincible... until the crew is taken out by snipers, of course. The crew has mostly disbanded, but Ike Broflovski has his own Pirate Crew now. Yarr!
Members
Current Members
Former Members
Featured Episode
Video Games
Ike Broflovski has taken over leadership as the Pirate King at the Playground leading brave kindergarten pirates to battle. He's close to the High Jew Elf King and helps the battle against The Lord of Darkness.
Bonus Factoids
Despite Cartman's proclamation that no Jews of Gingers are allowed in the club, Ike Broflovski is Jewish. Cartman may have excused him because he is "adopted".