Satan (Stan Marsh)
Satan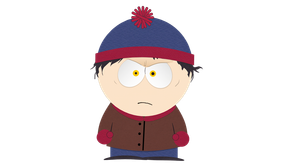 | | |
| --- | --- |
| Gender | Male |
| Age | 10 (biological) |
| Hair Color | Black |
| Grade | 4th Grade |
| Religion | Roman Catholic |
| Mind/Soul | Satan |
| Body | Stan Marsh |
| Voiced by | Trey Parker |
| First Appearance | Freemium Isn't Free |
About
When Satan discovers that the Canadian Devil is using un-nuanced techniques in mobile gaming to enslave good Canadians everywhere, he borrows Stan Marsh's soul for a couple of minutes to do unholy battle over in Canada with his counterpart. Once the battle's over, he quickly returns the soul to Stan, who just might be okay... or might fall right back into the Canadian Devil's trap. We'll see.
Memorable Quotes
Featured Episodes
Behind The Scenes
Storyboard
Check out the art made for this super-charged shot of Stan.

Bonus Factoids
Possessed, "evil" versions of major male characters are often very popular in fan communities - TONS of fan art of the possessed version of Stan came out right after the episode aired!