Ned Gerblanski
Ned Gerblanski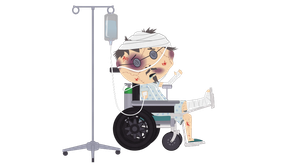 | | |
| --- | --- |
| Gender | Male |
| Hair Color | Brown |
| Occupation | Hunter* Co-host of "Huntin' and Killin'" |
| Religion | Roman Catholic |
| Voiced by | Trey Parker |
| First Appearance | Volcano |
About
Ned Gerblanksi is Jimbo Kern's old war buddy who co-hosts "Huntin' & Killin'." He blew his arm off with a grenade in Vietnam while helping to destroy the entire Viet Cong army. He also received throat cancer from smoking too many cigarettes and now must speak with the help of an electro-larynx. During the second season he was put into a catatonic state when he encountered the Mexican Staring Frog of Southern Sri Lanka.
Family
Housemate Jimbo Kern
DNA Overview
You're accident-prone and a bit of a hick. You're obsessed with trucks, beer and violence. People with Ned Gerblanski DNA have made a lot of sacrifices in this life – maybe even losing a limb or two along the way – but they did it all for the good ol' U.S. of A.
"I don't think eight year old kids drink beer, mmm."
Bonus
Despite not being shown onscreen (except for the brief Vietnam flashback in season 2) Ned is still an active smoker. Since Ned himself mentions this in the game South park phone destroyer.
Alter-Egos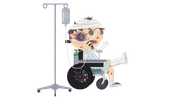 Injured Ned
Featured Episodes