Jewbilee
Jewbilee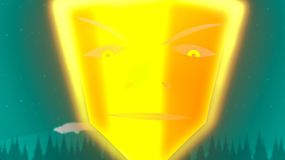 | | |
| --- | --- |
| Season | s03 |
| Episode | e09 |
| Written By | Trey Parker |
| Production Code | 0309 |
| Original Air Date | 1999-07-28 |
Episode Chronology
Story
Kyle invites Kenny to join him and Ike at Jewbilee, a camp for Jewish kids, where they summon Moses. Meanwhile, an evil plot to release Haman is at hand.
Description
Kyle's parents, before going to Mr. Mackey's party, bundle Kyle and his brother Ike off to Jew Scouts for an event called Jewbilee. Kenny, who wants to hang out with Kyle and promises to "act Jewish", tags along. Once there, Ike is sent off to be with the Squirts, which is the Jew Scout section for very young kids. The Squirts work on macaroni pictures while Kyle and Kenny carve soap sculptures.
Later that evening, Moses is conjured from a campfire to Kenny's amazement. The Jew Scouts present their soap carvings to him. But when Kenny does, he's instantly detected as "impure" and ejected from the camp.
The Squirts are AWOL, having gone on an ill-advised expedition to kill a bear seen lurking around the camp. The bear makes matters worse by picking off the toddlers one by one. But instead of killing them, it takes them back to play with its cub. Kenny is also rounded up, and he leads the kids and the bears back to camp.
Their timing couldn't be better because Elder Garth, leader of the Anti-Semitic Jews, has captured Moses in a conch shell, locked up the other adults, and is busily conjuring up the evil Haman to replace Moses as leader of the Jews. The Squirts free the adults and Kenny smashes open the conch imprisoning Moses, killing himself in the process. Moses smites both Haman and Elder Garth, then declares that the Jews shall meet every year on that day to celebrate Kenny's heroic efforts by making macaroni pictures, paper plate bean shakers and other knickknacks.
What I Learned Today
"It's fine to have your own beliefs and your own traditions, but as soon as you start excluding people from your ways only because of their race, you become separatists. And being a separatist sucks ass."
Memorable Quotes
"If you guys love Moses so much, why don't you marry him?" (Elder Garth)
"You must leave before the great eating of carrot cake." (Jewish Chief Elder)
"No cake for the impurity." (Moses)
"Kenny will believe whatever you want him to." (Kyle Broflovski)
"I pledge to be a Jew Scout. My honor wide and true. I am proud to be a Jew Scout. Otherwise, I'd just be a Jew." (Jew Scout Pledge)
"I desire macaroni pictures." (Moses)
Characters
Character Debuts
The religious prophet Moses, depicted as a giant glowing dreidel. He appears in later episodes as a member of the Super Best Friends organization in "Super Best Friends", "200", and "201".
The Squirts leader Shlomo is originally a minor character in South Park: Bigger, Longer & Uncut where he works the ticket seller at the town's movie theater.
Body Count
Kenny and Elder Garth.
Locations
Behind The Scenes
Where Did The Idea Come From
"Jewbilee" is the last of three different stories that all take place on the same night, also known as the Meteor Shower Trilogy. This episode revolves around Kyle and Kenny.
This was the last episode Matt and Trey had to complete before they could take a long vacation. Exhausted but satisfied with their work on the show and the film South Park: Bigger, Longer & Uncut, Trey and Matt decided not to care how good this episode was and wrote something dumb and weird as if they were high. "We shit this out of our ass," Matt emphasized on the episode's creator commentary.
Yet, they both considered "Jewbilee" one of their favorite episodes which helped them realize the writing process most suited for the show. Trey and Matt understood that they should not try to develop the plots for too long, but rather "just be stupid and have fun".
Pop Culture References
Shout Outs
Moses' appearance is based on the Master Control Program from the 1982 sci-fi film Tron.
The Squirts leader yells "It's a trap!" prior to the bear capturing the squirts. This is a reference to Admiral Ackbar's famous "It's a trap!" line from the film Star Wars: Episode VI – Return of the Jedi.
Moses shoots energy beams out of its eyes to kill Elder Garth, similar to the God in Star Trek V: The Final Frontier. When Captain Kirk becomes suspicious of the God's need for a starship, the entity shoots energy beams at him as retribution.
The Haman, to whom Elder Garth refers, was a 4th Century B.C. Persian official who schemed to have all the Jews residing in the Persian Empire killed. The plot was foiled by one of the Persian king's wives, Esther, who was Jewish. Haman was hung on a gallows he had prepared for the leader of the Jews. The feast of Purim commemorates his demise.
Ike makes a macaroni picture of The Last Supper by Leonardo da Vinci, depicting the final meal Jesus had with his disciples. The Squirts leader exclaims the inappropriateness of recreating the painting at a Jewish camp. Ike is again involved in a Last Supper recreation in "Margaritaville".
Bonus Factoids
Pointless Observations
Jewbilee is a reference to the biblical Jubilee, a year at the end of the seven cycles of Sabbatical years.
When Kenny is tossed out of camp, he walks dejectedly beside the highway and tries to thumb a ride. Suddenly a convoy of ATF vehicles streams by, on their way to Mr. Mackey's party as seen in "Two Naked Guys in a Hot Tub".
The main hall at Jewbilee is called Mashugana Hall. "Mashugana" is Yiddish for "crazy".
The small Asian kid who is kicked out for not being a Jew is named Junichi. This is a reference to Trey and Matt's Japanese college friend and animator Junichi Nishimura.
Within the Chamber of Elders, the Elders are actually speak Hebrew.
Kyle, Ike, Kenny, and all the other Jew Scouts wear payots, long curly sideburns that hang freely. Payots are worn by some men and boys in the Orthodox Jewish community based on an interpretation of the Biblical injunction against shaving the "corners" of one's head.
In order to fit in, Kenny's Jewish name is Kenny McHeinenberg.
Season 3