Fan Question: Cartman riding Cthulhu, what's that a reference to?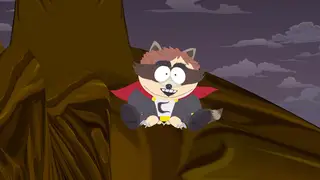 Fan Question: In "Mysterion Rises", what's the scene with Cartman riding Cthulhu a reference to?
Answer: Great question, dude! That's a reference to the classic Japanese anime film "My Neighbor Totoro", written and directed by Hayao Miyazaki. It's actually not the first time that's been referenced either, check out the "Imaginationland" Trilogy for more Totoro goodness.
If you can't tell by the countless references to anime throughout the years (including Anime Princess Kenny from the "Black Friday" Trilogy), Matt and Trey are HUGE fans of Japanese culture.
>> Have your own Fan Question?? Leave it in the comments section below!