PARAMOUNT+ ANNOUNCES THE NEXT SOUTH PARK EXCLUSIVE EVENT TO PREMIERE FRIDAY, OCTOBER 27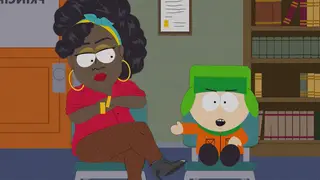 October 11, 2023– Paramount+ today announced that the service's next South Park exclusive event SOUTH PARK: JOINING THE PANDERVERSE will premiere Friday, October 27, in the U.S. and Canada and Saturday, October 28, in the U.K. and Australia with further international markets to follow. The first four South Park exclusive events – SOUTH PARK: POST COVID, SOUTH PARK: POST COVID: THE RETURN OF COVID, SOUTH PARK THE STREAMING WARS and SOUTH PARK THE STREAMING WARS PART 2 – are available to stream exclusively on Paramount+.
Watch the "SOUTH PARK: JOINING THE PANDERVERSE" Exclusive Event First Look
In SOUTH PARK: JOINING THE PANDERVERSE, Cartman's deeply disturbing dreams portend the end of the life he knows and loves. The adults in South Park are also wrestling with their own life decisions as the advent of AI is turning their world upside down.
In 2022, South Park the series celebrated the 25th anniversary of its August 13, 1997 debut on Comedy Central. Stan, Kyle, Cartman and Kenny were first seen in the animated short "The Spirit of Christmas," and from there were launched into television history. Co-creators Trey Parker and Matt Stone are executive producers, along with Anne Garefino and Frank C. Agnone II. Eric Stough, Adrien Beard, Bruce Howell and Vernon Chatman are producers. Christopher Brion is the Creative Director of South Park Digital Studios. South Park's website is SouthPark.cc.com.
Building on MTV Entertainment Studios' expansive deal with co-creators Matt Stone and Trey Parker, South Park has been renewed on Comedy Central through 2027, taking cable's longest-running scripted series through an unprecedented 30th season.
About Paramount+:
Paramount+, a direct-to-consumer digital subscription video on-demand and live streaming service, combines live sports, breaking news and A Mountain of Entertainment™. The premium streaming service features an expansive library of original series, hit shows and popular movies across every genre from world-renowned brands and production studios, including BET, CBS, Comedy Central, MTV, Nickelodeon, Paramount Pictures and the Smithsonian Channel. Paramount+ with SHOWTIME, the service's cornerstone plan, is also home to SHOWTIME® content, including scripted hits, critically acclaimed nonfiction projects, SHOWTIME SPORTS® (including industry-leading SHOWTIME BOXING®) and films. This premium plan includes unmatched events and sports programming through the local live CBS stream, including golf, basketball and more, plus streaming access to CBS News Network for 24/7 news and CBS Sports HQ for sports news and analysis.
About SHOWTIME/MTV Entertainment Studios & Paramount Media Networks
SHOWTIME/MTV Entertainment Studios & Paramount Media Networks is a global network of media assets that reaches over one billion people in more than 180 countries featuring some of the most iconic brands in entertainment including SHOWTIME, MTV, Comedy Central and Paramount Network among others – and, its Studios arm which produces 120+ series annually, including some of today's biggest hits such as Yellowstone, Yellowjackets, Emily in Paris, 1883, 1923, George & Tammy, South Park, Tulsa King, RuPaul's Drag Race, The Challenge and Jersey Shore, to name a few.