South Park Is Gay
South Park Is Gay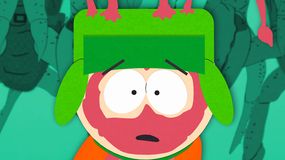 | | |
| --- | --- |
| Season | s07 |
| Episode | e08 |
| Written By | Trey Parker |
| Production Code | 0708 |
| Original Air Date | 2003-10-22 |
Episode Chronology
Story
Description
Kyle arrives at the bus stop to discover that Stan, Kenny, and Cartman are all dressing and acting like "metrosexuals" (highly-stylish, highly-effeminate straight men). They immediately take Kyle to the mall for a full makeover, so he can "fit in." However, Kyle's parents are less than excited about the new look. His dad heads over to Stan's house to talk about the issue, only to find all the South Park men are now dressing as metrosexuals and watching Queer Eye for the Straight Guy.
When the boys go to school, they're stunned to see that they aren't the only ones who are stylishly dressed. Every boy in the school has jumped on the metrosexual bandwagon. When Kyle tells Chef that he still isn't sold on metrosexuality, he's advised to be himself instead of what's cool. So Kyle abandons the trendy clothes and is promptly rejected by his friends.
Mr. Garrison is equally disturbed. All the straight men are acting gayer than him. He's no longer special. Enraged, he and Mr. Slave decide to fly to New York and murder the cast of Queer Eye for the Straight Guy. Tortured on the playground and abandoned by his friends because he won't give in to peer pressure, Kyle has the same idea. The blood-thirsty trio run into each other on the subway and, after a brief argument over who will strike the first blow, decide to work together.
But their plan is thwarted when they learn that the Queer Eye guys aren't really gay . . . or even human. They're a race of subterranean Crab People who plan to turn all human males metrosexual, then take over the world. Kyle, Mr. Garrison, and Mr. Slave are taken prisoner and forced to watch as Queer Eye for the Straight Guy does a makeover of the President.
Suddenly, South Park's women (who are fed up with their newly effeminate husbands) burst into the studio and bludgeon the Queer Eye guys to death, inadvertently revealing their true Crab People identities. Stunned, the network's president vows to end the gay fad and, in its place, revive the Latin fad.
What I Learned Today
"You see, at first we liked having our men be clean and neat. We thought that having them use product in their hair and wanting facials would make them sexier. But it doesn't."
Memorable Quotes
"Nice jacket, Kyle! Polyester is really the hot fabric this fall." Cartman
"Dude, I can't wait for Wendy to see how gay I look!" Stan
"Those pants and those shoes say you pound butt!" Mr. Garrison
"When the chicks at school see how gay we are, they're gonna be all over us!" Cartman
"My grandpa was Bi! So that makes me quarter Bi!" Cartman
"Chef, what did you do when white people stole your culture?" Mr. Garrison
"Craig's trying to say that his dad can out dress you!" Stan
"CRAB PEOPLE! CRAB PEOPLE! CRAB PEOPLE!" "Crab People"
"When all the world is metrosexual, the Crab People can finally reign supreme!" Kyan, of the Crab People
"We're here - We're not queer - But we're close - Get used to it!!" Boys' chant during the Pride Parade
"NOW because white people say 'Hizzle for zizzle' WE have to say 'Flippity Floppity Floop.' " Chef
"Look, guys, we're sorry we tried to murder you. But You have to stop what you're doing! - " Mr. Garrison
Characters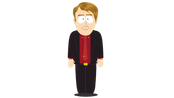 HBC Head of Programming
Character Debuts

Crab People
Body Count
The five-member cast of Queer Eye for the Straight Guy.
Locations
Original Songs
Deep beneath the earth's crust, we are treated to the ominous, booming "Crab People" chant.
Behind The Scenes
Where Did The Idea Come From
The story sprang from a discussion among the writers about how far things had come since "Big Gay Al's Big Gay Boat Ride" was broadcast. At the time, Big Gay Al was shocking and groundbreaking. But by 2003, gay culture was entirely mainstream.
Pop Culture References
Shout Outs
A few real TV shows are mentioned in this episode: Boy Meets Boy and Will and Grace. Also, at the end of the episode the Network Executive says, "I should have known they were Crab People. They tried this before with The Jeffersons."
The Metrosexual Pride Parade is an obvious nod to the Gay Pride Parade. The men and boys chant, "Out of the malls and into the streets!" and "We're here! We're not queer! But we're close! Get used to it!!" -- both parodies of popular slogans used by Queer Nation in support of gay culture.
Cartman's shirt has a black-and-white image of pop icon Marilyn Monroe on it.
Pwn'd
The Queer Eye gentlemen, whom Mr. Garrison accuses of selling out their own culture.
Bonus Factoids
Pointless Observations
The stores at the mall shown during the makeover -- Forever 16 and Marcy's -- are parodies of the all-too-real mall fixtures, Forever 21 and Macy's.
When Kyle refuses to go metro, Cartman pulls the boys aside, "We have no choice, you guys. We're just gonna have to kill Kyle." This is the same exact solution he proposes earlier in the season when he's scared Kyle will rat them out in "Toilet Paper" . He also proposes killing Kyle via explosives in the upcoming episode "Grey Dawn" .
Season 7