FORUM
Moderator: Big-Will
As Kyle and Stan are in the cave discussing what to do about Cartman, Kyle's glove appears and disappears several times. When his hand is down, the glove is off, but when he puts it up, it appears.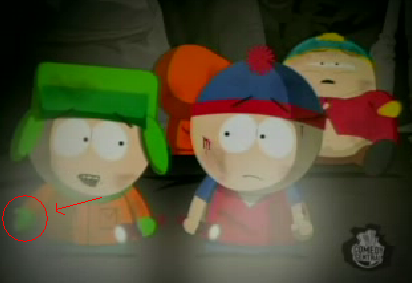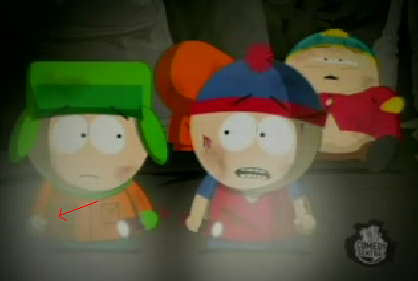 Posts: 924
Joined: Sun Mar 12, 2006 2:32 pm
Very nice find.
Officially blending in with all the Cartman fans.
Thanks b489 and KTS for sig
Posts: 9
Joined: Wed Jul 19, 2006 4:01 pm
coulda possibly taken it off but still a damn good find
oh jesthuth chrithsth mr garristhon. lemmiwinkths isth in my assth
Posts: 227
Joined: Wed Jan 25, 2006 9:29 pm
Posts: 138
Joined: Fri Apr 21, 2006 2:16 am
"Six words Lisa, 'I'm not gay, but I'll learn.'" Homer Simpson

"How do you speak my language?" Adam West

"This job would be great if it weren't for the f*cking customers." Randall; Clerks
Posts: 6
Joined: Wed Dec 27, 2006 8:49 pm
damn good find! How the f*ck did you see that? Your good, real good!
Posts: 1381
Joined: Sun Nov 19, 2006 11:11 pm
I would have never spotted that. You've got fine eye sight!

Posts: 49
Joined: Tue Jan 09, 2007 8:27 pm
This is not a blooper. If you look closer and better you can see the flashlight makes his hand brighter and if you compare it with stand hand that is also with the flash light on it you can see kyles hand is darker and greyer, his glove is still on
What would Brian Boitano write?
---
Who is online
Users browsing this forum: No registered users and 1 guest