FORUM
Moderator: Big-Will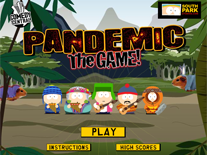 Hi. There used to be a game

p

a

n

d

e

m

i

c

T

h

e

G

a

m

e

.

swf

in the arcade section on this website.
But now there are no any flash games.

Can someone help me to find this cool nostalgic game with good Peruvian music, please?

First time I see this image. Haven't found the game, not even in the archives.

Okay, I found a link for it in the 2011 archive, but it asks for an old version of Flash. The latest version of Flash won't work with games that old.
Enjoy this video, though.

found this link it has some different south park flash games
http://southparkgame33.blogspot.com/
i couldn't get the game to play south park site wont connect it says
i kinda forgot about these games
how ever
the one i do remember the most was south park ass kicker
That site linked to all the games on this site.
This site got rid of them all.
Thus, none of the games on that site will work.
Thus, this thread is now locked.
---
Return to "South Park Video Games"
Who is online
Users browsing this forum: No registered users and 1 guest